Why Google+ for Digital Health Marketing?
Even with all the changes to search ranking criteria and keyword  data access, Google is the master of the online domain. Google+ is the social media network that connects directly into all things Google. 
With over 400 million users, Google+ is the fastest growing Social Media network. Activity on Google+- pluses, shares, comments- do impact your Google search rankings.
With this in mind, let's look at how to best use Google+.
Google+: An Engagement Social Media Platform with SEO Benefits
Unlike Twitter, Facebook, Linkedin, Google+ is more of an engagement social media platform. When you post to Google+, it's important to tap into this difference.
While the current advice on Social Sharing on Twitter, Facebook, and Linkedin is to minimize the amount of text used (70-100 character posts/updates, the Google+ platform encourages… and rewards with SEO juice… Longer, more text-rich posts.
 How to Write
the

Perfect

mHealth

Google+ Post
NUMBER ONE: Post  Daily Updates to Your Business Page- Share breaking news, industry trends and discussions, and sneaks of upcoming events. Crafting your Google+ post following these guidelines will position you for more engagement.
7 Elements of the Perfect Google+ Post
1. Title-  Offer a benefit in your Title. Bold your title with asterisk at the beginning and end. Consider an italicized sub-title (use the underscore symbol at the beginning and end of the sentence) for more emphasis and explanation of the value your post provides.
2. Summary- Provide a brief, 2-3 sentences of what the post is about. Explain why it's worth the reader's time to click through to the post.
3. Link- Provide a clear link to the article, post, or resource. Use a link shortener to make the link look better and track click throughs.
4. Commentary- Share your thoughts and perspective. Take a position and add a few sentences to back up your thinking.
5. Engagement- Prompt readers to respond. Ask them a question to encourage them to share their own perspective.
6. #Hashtags- Add relevant, specific hashtags. Do not add more than 3 hashtags to a post.
7. Image- Upload and share a relevant, interesting photo that will catch attention as someone browses the Google+ stream. 
IMPORTANT UPDATE: Make sure you include a Full Screen width image on all your Google+ posts.
If you simply share a link to your post, Google + simply displays an Image snippet: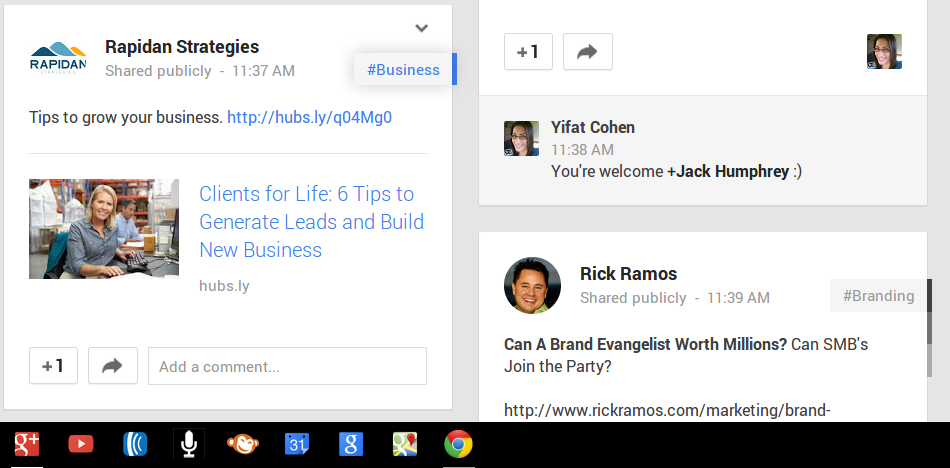 When you take the extra step to upload an Image, the Image is full-width across the Google+ post. The image has a greater chance of "popping" and grabbing attention within the Google+ stream.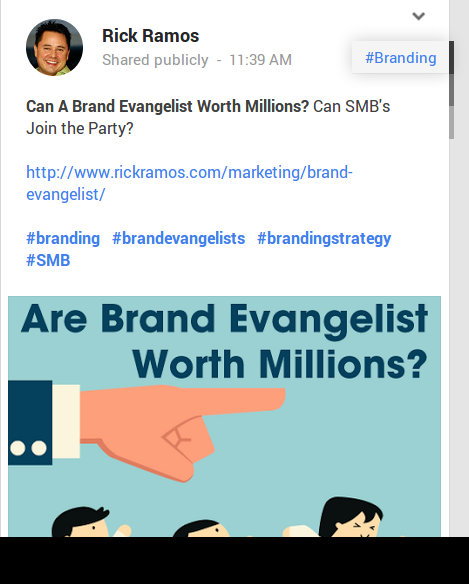 Most Social Sharing apps, such as Hootsuite, Social Omph, and Buffer give you the option to upload and insert an image into your Google+ post 
Here's an infographic that gives you a visual representation of the 7 elements of an effective mHealth Google+ post: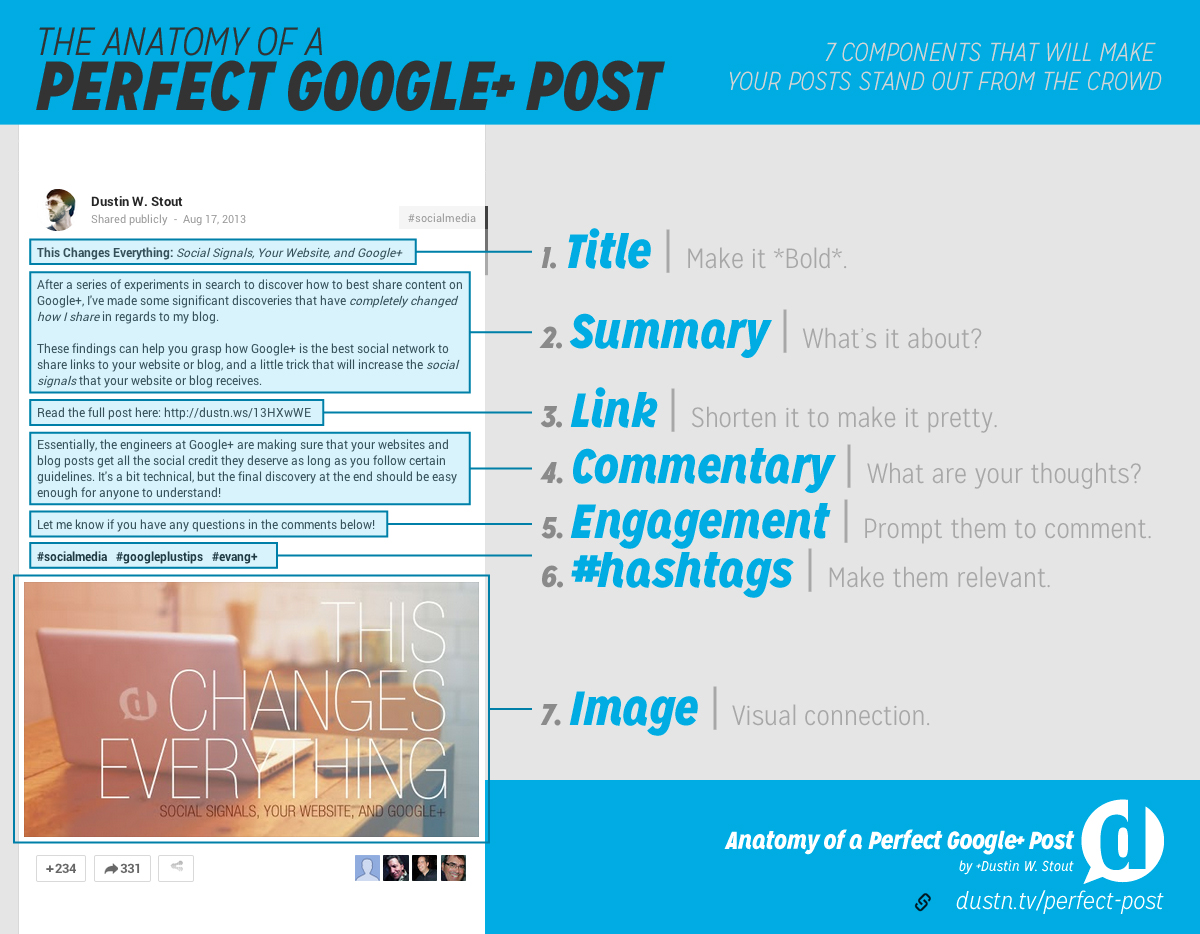 NUMBER TWO: Promote Your Business Page Posts on Your Personal Profile- This is the same tactic as used to promote and share Linkedin Company Page posts. Create a post about your Business Page post on your Personal Profile.
Follow the post guidelines above.
Encourage your staff to Plus, Comment, and Share the Personal profile post.
Ultimately, this will direct readers to your Google+ Business Page and build a Following on your Business Page.
Follow this two-step, 7-element approach to build your Google+ engagement and Followers.
Over time, Google and your Followers will reward you. You'll connect and engage with like-minded prospects, clients, and Influencers in your Market.
And, you'll reap the benefits of improved search engine rankings.
NOTE:  This blog post was updated with new, relevant information on July23,2014 
photo credit: west.m via photopincc

More Stories on the Topic