To engage your buyer personas and Ideal Future Clients on Linkedin, you need an active Linkedin Company Page. When you follow these tips , you position your business to boost Linkedin engagement, connect, and build relationships with your targeted prospects.
Create Perfect Linkedin Status Updates 
Here a a few quick tips to Linkedin Company Page Status Updates:
Post Breaking News, industry trends, or sneak peeks
Ask questions to prompt engagement
Limit title to 50 characters
Include a URL in the Status Block to drive traffic to your relevant blog post or landing page for more information. Add an action verb Call to Action- Discover, Read now, Click here
Comment on the Status Update using your Personal profile. Have your staff also comment to seed and prompt discussion.
Edit the default test link with a link shortener. Keep it clean and simple.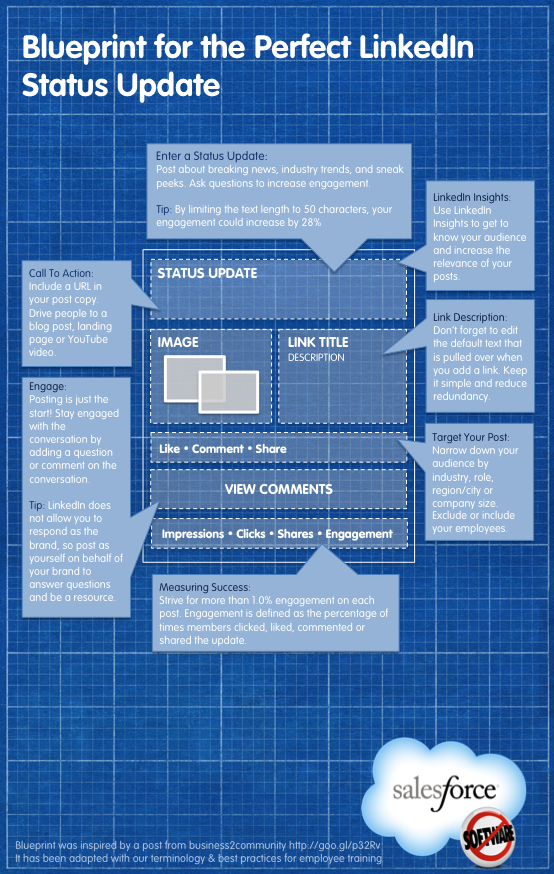 Promote Status Updates through Personal Profiles-  Use your Personal Profile to share your Company Page Status update on your News Feed. Also have your staff do the same. This will spread your Company Page and Brand on Linkedin.
Post a Company Page Status Update Daily- Monday-Friday. Best time to post: 7AM- 9AM and 5-6 PM
Follow these basics to gain exposure using a consistent approach on Linkedin. Boost your marketingh reach and support your Linkedin Company Page with Personal Profiles. Engage and share relevant information via your Personal Profile and participation in relevant Linkedin Groups.  
More Stories on the Topic