mHealth Marketer Podcast - Episode 1
[ 16:01 ]
Play Now
|
Play in Popup
|
Download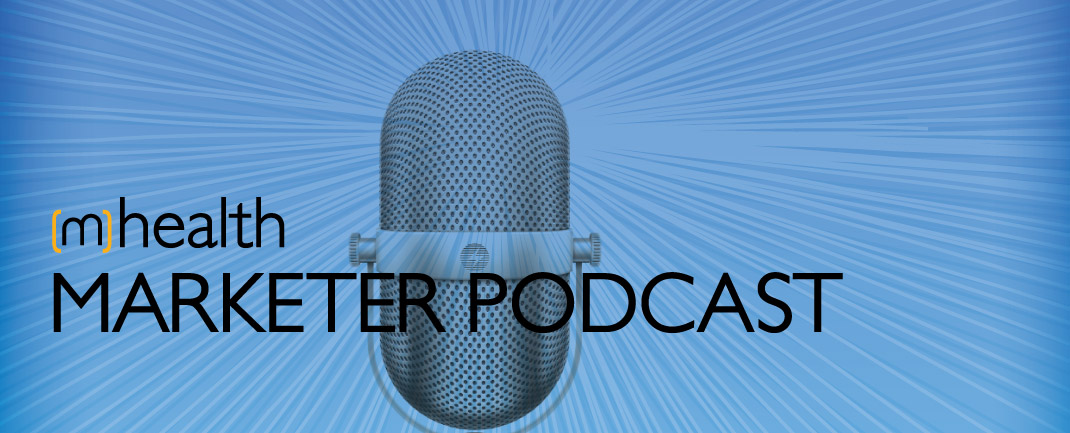 While there's a buzz and lots of noise about technology in healthcare, something big is missing. What's missing from healthcare innovation and marketing of healthcare technology innovation?
The story.
Where's the story about doctors and nurses delivering improved healthcare? Where's the story of patients living, better, healthier lives as a result of all this wonderful technology?
Over the next four weeks, we'll explore the power and importance of storytelling in Mobile and Digital Health Marketing. Topics we'll cover include:
Storytelling Overview: The Key to mHealth Marketing Success (Today's Podcast- Tracks the Modallic Tell Stories. Drive Sales. FREE Download Guide.)
Why Storytelling for mHealth Marketing
Why Storytelling Works… and why it's needed for Mobile and Digital Health Marketing
Why Discovering Your WHY is the Key to Storytelling Success
Inside the Storytelling Process
How to Tell Your Agile Mobile and Digital Health Story
About This Show
Each Tuesday, Sam Stern, founder and Chief Marketing Technologist at Modallic, an mHealth marketing and brand development firm reveals his winning Mobile, Digital and healthcare IT marketing strategies, shares real life Mobile Health marketing success stories, and offers breakthrough marketing tips and tactics so you can lead the field with your Mobile Health and healthcare IT solutions.
Discover how to craft compelling stories to open doors with key health care system decision makers. Understand how an agile marketing mindset and approach positions you to create a profitable, sustainable business.
Gain insights into Mobile Health and healthcare IT marketing strategy, how to tell your unique mHealth and healthcare IT marketing story, creating your mHealth buyer personas, how to integrate an agile marketing process, mobile health and digital health brand development and market positioning, and learn what really works in attracting and landing mobile health and healthcare IT clients.
Show Notes:
Storytelling: The Key to mHealth Marketing Success- An Overview
This podcast follows the FREE Modallic Guide: Tell Stories.Drive Sales. The link to download this guide is listed below in "Items Mentioned in this Show".
1. The most successful marketing story ever told- The Wall Street Journal mailed a simple story for 26 years and generated over a billion dollars in sales.
2. The Ant and the Grasshopper- An ancient fable that has lessons for today's mHealth marketer.
3. Good stories stand the test of time. The best story wins… and keeps winning.
4. Elements of Your Epic mHealth Story
The Opening- Pulling in the reader and grabbing attention
Setting the Scene
Introduce and Develop Characters: The Hero's Journey
Explore the Problem: Show a New Vision
Triumph of the Human Spirit
5. The Process of Creating Your Agile Story
Research and Development- Discover the seeds of your story
Pre-Launch- Planning to take your story to market. Testing your story on your buyer personas.
Launch- Speed is key.
Post-Launch- Evaluating your story. What works and doesn't work and making your story… and marketing… more effective.
6. Do you, will you… "Story"?
7. Your Next Step: Tell Stories. Drive Sales.- FREE Guide and Storytelling Brainstorm Sessions.
8. Next Week:
WHY Storytelling?
Items Mentioned in this Show:
Sean McCown- Healthcare Is NOT Ready for Innovation
HIMSS Linkedin Discussion regarding Sean McCown's article
Tom Peters: The Story Is More Powerful than the Brand, BEST Story Wins.
Seth Godin: Marketing is storytelling.
Tell Stories. Drive Sales. : A FREE Guide- Learn How Storytelling drives mHealth and Digital Health sales.
An Opportunity for Innovative mHealth Marketers
What's YOUR Story?
Schedule Your Storytelling Brainstorm Session Today!
Each Friday afternoon, from 1-3 P.M., four 25-minute mHealth Storytelling Brainstorm slots are available for mHealth and Digital Health firms. These meetings, performed via Google Hangout, are your chance to "test-run" your story.
Reserve your time today to find out if your marketing story resonates and compels your potential buyers into action.
Will You Help Me Get This Message Out There?
Want to get more tips and strategies for marketing your digital health firm? There are three ways you can enjoy these tips and strategies, share them with friends, and help me grow this movement to end the lack of innovation in healthcare:
Sign up for this podcast on iTunes. Click here to subscribe to the podcast on iTunes.
Subscribe to this podcast through the Podcast app on your iPhone or Android phone (free from the app store).
Leave a review — Share an honest sentence or two about the show on the iTunes page and give it a star rating (this makes a HUGE difference in helping others find the show).
Share the Podcast — Share this episode with friends and colleagues. An easy way to do that is by using the social media buttons down below.
Finally, if you have a question you'd like answered on a future show — or if you have any feedback in general — please let me know: sstern@modallic.com
Thanks again for your support!
More Stories on the Topic