Short, sweet… and brain dead obvious:
To effectively market your mHealth firm you MUST have an effective mobile website.
If not, you're simply not even in the game.
Why a Mobile Website Is a MUST?
Mobile is fast, if not already, on pace to replace the desktop as the device of choice to access the Internet. For those who use mHealth apps or enterprise digital health solutions, there's no question that mobile is used more often than desktop to get online.
Mobile is also rapidly replacing the desktop for email access too.
Website Optimized for Mobile: A MUST
With mobile access now reaching the tipping point,  it's a MUST to optimize  your mHealth website for mobile.
Keep these points in mind when optimizing for mobile:
Smaller, limited screen size mean more focused content needed.

Mobile user make fewer clicks because it's more difficult clicking on small link text

Mobile users are on the go. They are action-oriented and want answers immediately

Mobile users are sophisticated users and consumers. They are without a doubt your best prospects.
While it's brain dead obvious mHealth firms MUST optimize for mobile, few of them are actually doing it.
Get in the Mobile Game.
Here's a resource to help you optimize your mHealth Mobile website:
Free Tip Sheet: Mobile Marketing for the Digital Health Marketer
Click the link above or the icon below for immediate access, and get in the Mobile Marketing Game today.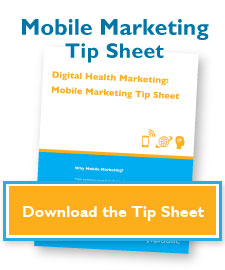 photo credit: albyantoniazzi via photopin cc
More Stories on the Topic