After all the research, after all the practice, when faced with a difficult decision or near impossible situation it comes down to trusting your instincts and taking action.
In the recent 2014 World Golf Championship Match Play, 23 year old, little known French Golf Pro, Victor Dubuisson, not once but twice performed magic to extend the match. In an impossible situation, with the match on the line, Victor trusted his instincts. He wasted no time in hitting both of his miracle shots.
With your business on the line, the same holds true when choosing a Marketing Agency to work with you.
Here's a great way to get started in finding the right marketing agency to work with you.
Take the 3-Second Blink Test. Trust your instincts.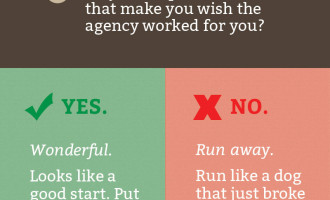 After using the Blink Test to create your short list, engage with the agency's sales process.
As the process unfolds, ask yourself:
Did you trust the agency enough to share your truth? Did you openly and honestly share your current reality vs. where you want to go?
Did they LISTEN?  Do you feel they understand and empathize with your challenges?
Bottom -Line… your instincts should tell you this:
You are eager to get started and work with the marketing agency. You are convinced that the benefits of engaging clearly offset the risk of doing nothing.
You seek the path of least resistance and the least risk in making a decision.
Look for an agency that leads you through this. 
Trust your instincts.
Take action.

More Stories on the Topic